"She always puts other people first, and it makes me smile."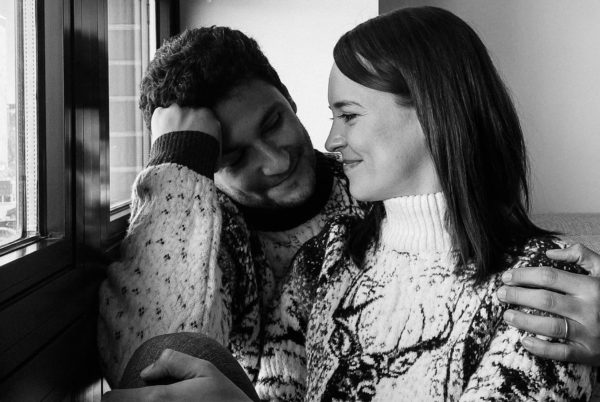 A slow start to love and then a relocation across the globe didn't stop Liza and Hector from starting a life together. But who needs love at first sight when you've met your soulmate? In this post, these two tell us their love story, a world-spanning journey together that features giraffes, remote Greek villages, and new American traditions.
How did you two meet?
Hector: We were at a Halloween party in Manchester. It was not love at first sight as I'd had a few drinks! It took about a year and something before Liza would actually speak to me.
Liza: It definitely wasn't love at first sight, at least not from me. But we met again at Hector's brother's birthday party and became friends. Then we started dating! 
What was the moment that you knew you had found the one?
L: I always had wanted to move around, and Hector was always happy to move with me. We met originally in Manchester and a few years later we decided to move to London. Then I wanted to move to New York. Hector was ready to pick up his life and move with me, which showed me that he prioritises me over other things and slowly but surely that demonstrated his commitment.
H: I remember very early on seeing just how big Liza's heart is. She always puts everyone else in front of her. For example, she was in the middle of studying exams and had a deadline coming up and my mom happened to visit town, and she went out of her way to go get cakes and flowers. She didn't do it because she needed to, but just because that's the way she is.
Do you have a favourite memory of a time that you shared together?
L: Our honeymoon. For a very long time we wanted to do a proper Safari and one dream of mine was to go to a place called Giraffe Manor in Nairobi. It's a beautiful lodge that started as a giraffe rescue. The giraffes come and join the people for afternoon tea by putting their heads through the window! One of my favourite memories is being there and just having so much fun.
Do you two have a song?
L: We shared our first dance to 'Our Song' by Ed Sheeran. It was really trendy at the time but as soon as I heard it, there was something that reminded us of us. Luckily we managed to get tickets to an Ed Sheeran concert just before our wedding!
Do you guys have any fun traditions as a couple?
H: Every Friday the 13th, we have to watch a scary movie and eat popcorn. We have a couple of those a year and it's just really fun!
L: We also have a Christmas tradition that we created when we first moved to the States. I arrived here on Christmas Eve. By the time we woke up in the morning, there wasn't anywhere to get food, plus there was a snow storm so I had no idea what to do.
We left the flat and went for a wander and found the only place that was open: Dunkin' Donuts. We got Christmas breakfast there, a very American move! So now we always stop by Dunkin' on Christmas Day.
What is it about your partner that makes you smile?
L: Hector is the silliest guy ever, which you would never tell from his professional interactions. He thinks he's not funny, but I honestly think he is the funniest person out there. 
H: It goes back to the way Liza sees the world and the fact that she always wants to do the best for the people around her, the people she works with, her friends from back home. She always puts other people first, and it makes me smile.
What inspired your ring design?
H: I'm a fan of minimalism so I wanted to go for a minimalist ring. I dropped a few hints to see what she thought and she said minimalism just wasn't her style. So I decided on something that would be centred around one diamond, but also incorporated this idea of everlasting love. I liked that the ring was associated with infinity, and that's what sold me on the design.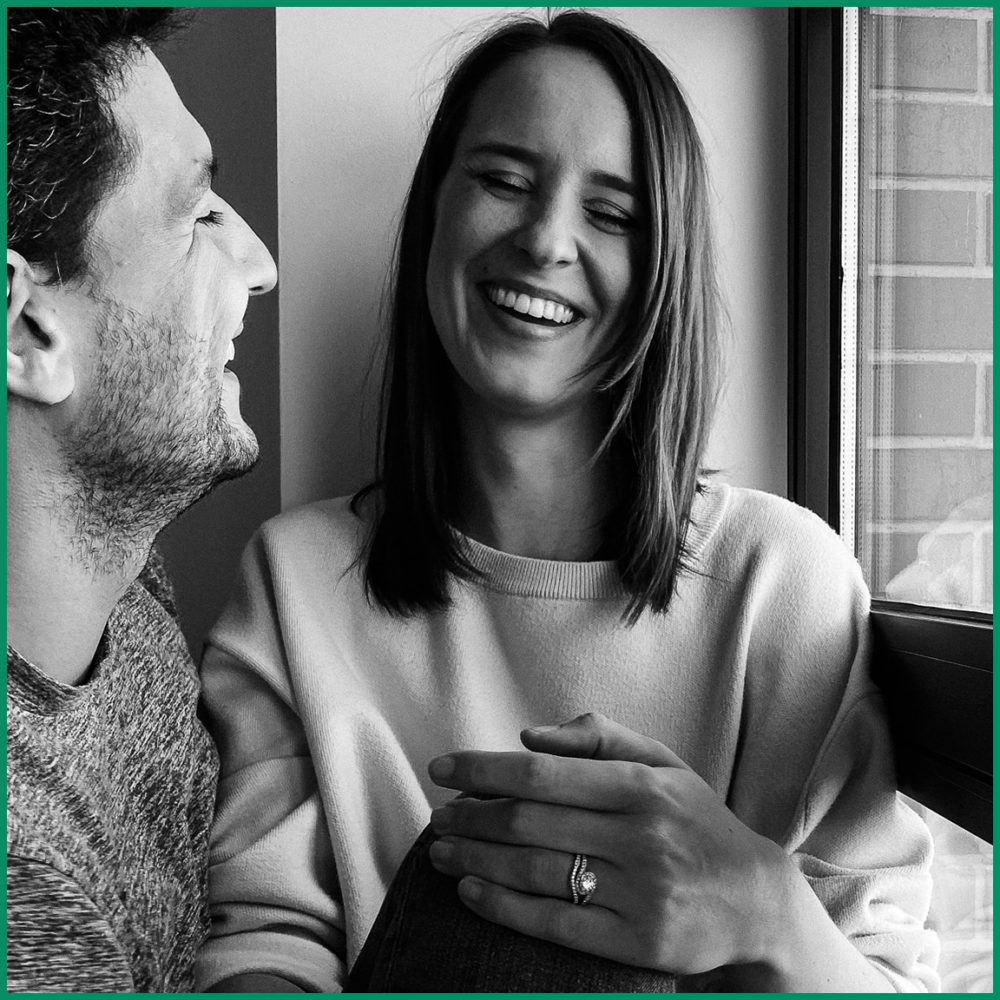 Every time I feel down or sad he always manages to make me laugh.
— Liza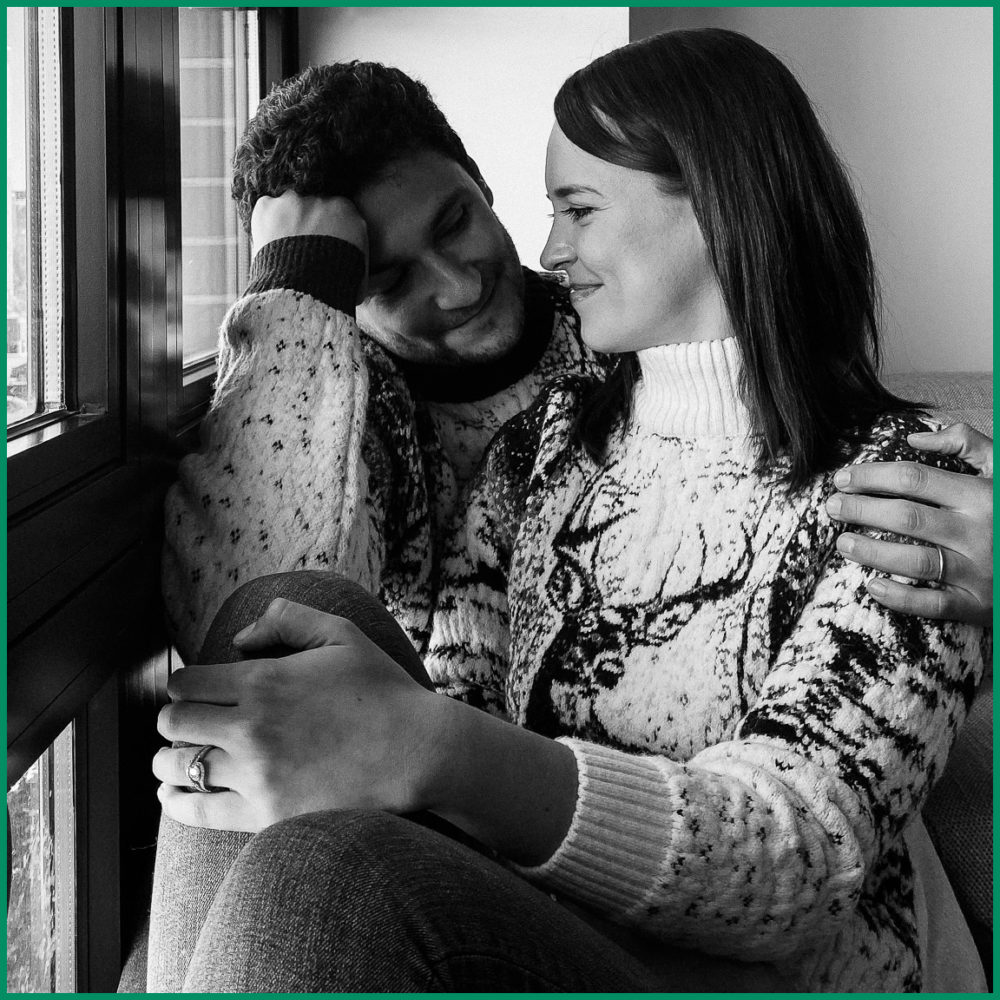 Can you tell us about your proposal?
L: We went on holiday to Santorini but I did not expect a proposal at all. The day it happened, we'd had a super eventful, packed day and had woken up super early to go and see the sunrise.
H: The proposal was supposed to be on the day we got there. But the ferry to Santorini made Liza seasick, so she had to take medicine and that made her drowsy. I had to call the restaurant and move all the reservations to the next day. 
L: The next day we'd booked a full day tour, which was so nice and at the end they offered to take us to an extra village before we went back. It was gorgeous but we didn't account for the time! Hector was stressed the whole way back, but we did manage to get to the restaurant on time.
When we got there I began to suspect that something was happening. The biggest giveaway was that as we were walking into the restaurant, he shook hands with the guys as if he's known them for ages!
We had a table on the beach with lights and candles all around, and there were flowers and balloons so by that point I knew what was going on. We asked the waiter to take a photo of us sitting and then Hector said we should stand up. He could barely contain himself. We stood up and he got down on one knee and proposed!
How do you and your partner feel about the finished ring?
L: I love it. I think it's special, it was a surprise, I didn't participate in the designing of it. We managed to fit the wedding band with the engagement ring perfectly, So we managed to actually work with Taylor & Hart to get it all curved and shaped in a way that looks really beautiful and coordinated.
What are the dreams you guys share together for the future?
L: We dream of growing altogether and retiring in Tuscany. I want us to be one of those old couples that do life together and travel the world. I just want us to be healthy and happy!