"We realised that what we wanted out of life was each other."
If there were ever a story about real love that feels as though it were written in the stars, it's the story of Dom and Julianna's relationship. Having met as children, these two became high school sweethearts and, with strength and fate on their side, recently became engaged. But they'll be the first to tell you that a love like this takes work, explaining to us the reasons why it actually feels like they've shared four or five different relationships together. 
The passion and effort they put into making a life together is also reflected in the heirloom-turned-modern engagement ring that they meticulously planned together.
Read on to learn about their life in NYC and the irreplaceable diamond at the heart of their proposal.
How did you two meet?
Julianna: We were high school sweethearts. 
Dom: The first time we met, we were around 12 and 13.
J: We met in middle school, and even went on to be on the same science Olympiads team. We started dating when we were 16 and 17. 
When was the moment you both knew that you had found 'the one'?
D: We joke about how in our ten year relationship, we've really had four or five different relationships. When you date at the age of 16, you can't anticipate how things will unfold. It probably wasn't until the second or third phase of our relationship that I really knew she was the one. We're fortunate in the fact that we're independent people and just happened to grow together. It took a lot of work and a lot of luck but we realised that besides our career ambitions, what we wanted out of life was each other.
Do you both have a favourite memory of a time that you shared together?
J: For our fifth anniversary we went on our first trip, just the two of us to Costa Rica. It was one of my first experiences travelling somewhere like that. It was so incredible, especially having come from New York City where it's so busy with the city lights and skyline. Seeing Costa Rica's night sky and bright stars was one of the most romantic experiences of my life. They also say that traveling with your partner is a good test to see how you'll do in stressful situations, and everything went really well!
D: For me, there are so many memories during college. I always think about those times and realise that I was so incredibly happy to be in such an amazing city with such an incredible person.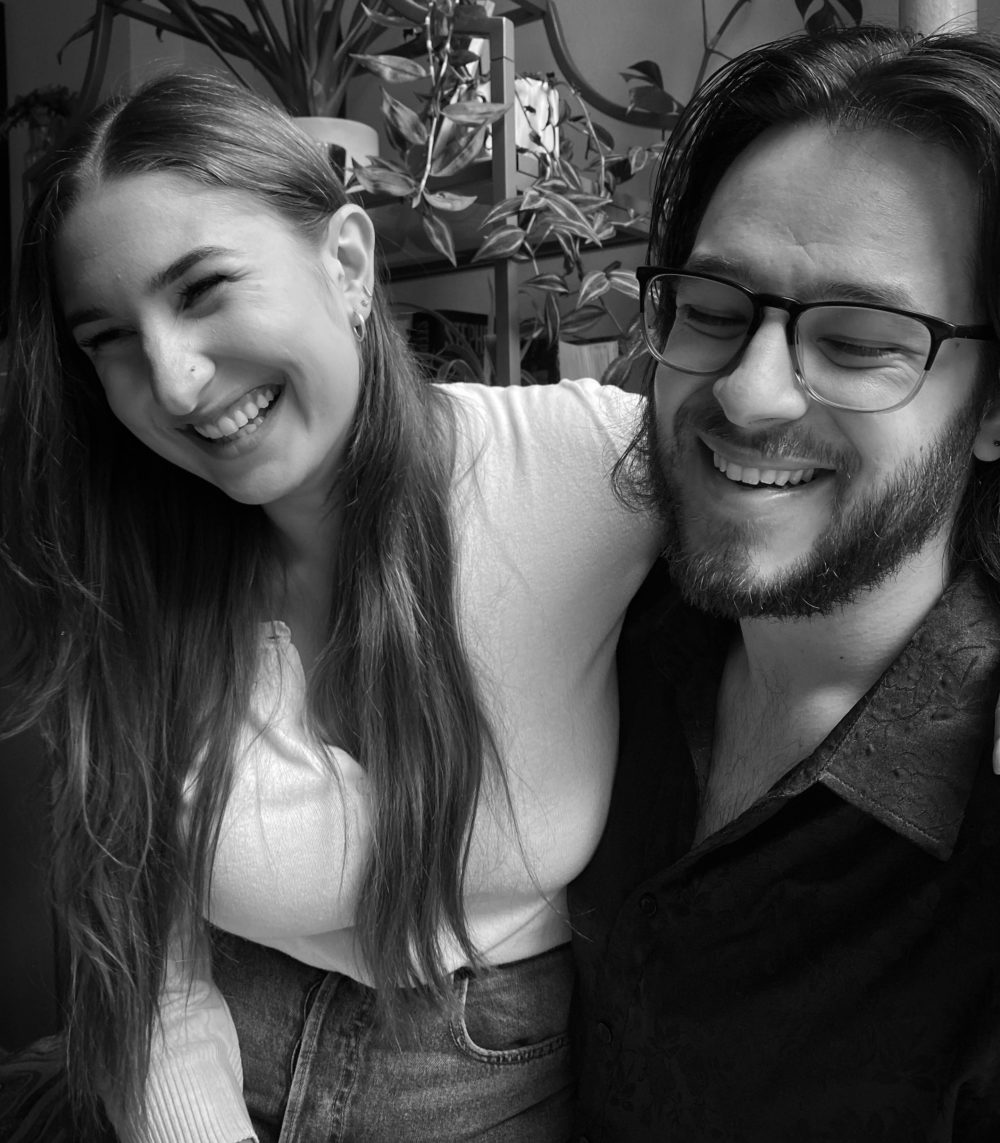 What is it about your partner that makes you smile?
D: I'm very fortunate to have someone in my life who is so empathetic. [She] just jumps in at any opportunity to help someone else or to say something kind to someone. Men are taught to be 'traditionally masculine', to hide your emotions. By growing with someone who is this empathetic and compassionate, it's made me more open as a person. It's easier to pay a compliment to a friend or to say something nice about someone. It's been an incredible thing to learn.
J: For me, I think he can just take any situation and make it silly. If I'm stressed or we're having a crazy day, I just look at him and he makes a face and I just can't keep it together. He has the ability to make the perfect joke or shed light on something that didn't have to be so serious after all.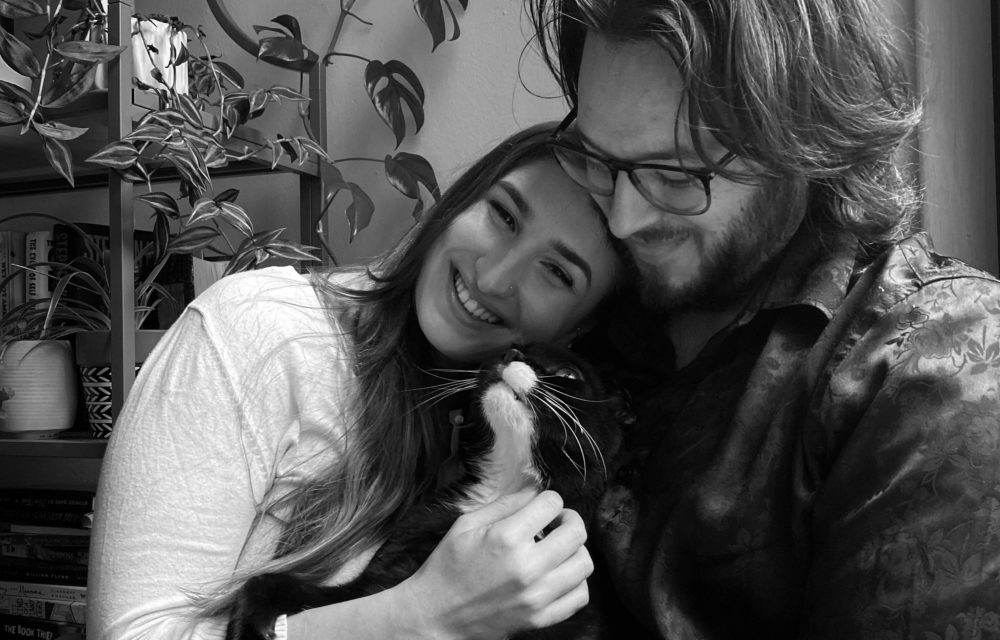 What inspired your ring design?
D: As high schoolers when we first started dating it was easy to play pretend and talk about what type of ring she wanted. When you're 16, it doesn't matter. But those conversations stuck with us. I knew pretty early on that she wanted a vintage setting. When we began really planning a proposal, we talked together about different designs and what little details she liked and things she didn't like. This was a hugely important piece of jewellery, I wanted to make sure I got it right. 
The centre diamond belonged to Julianna's step-mom who unfortunately passed away in 2019. I was so fortunate to know her for so long, and she trusted me to be able to do something special with the diamond she left to Julianna. It was a huge honour to be able to take something that she wore and loved and turn it into a piece of jewellery for Julianna. 
J: [In my step-mother's ring] the diamond was set in a halo in white gold. It was very different from my personal style and looked much larger with the halo. I would try it on when I was a kid and she would say "oh, that's not right for you." So she was very clear with Dom that he could redesign it however he wished. It's very special to have something that is so personal to me and my family, but also made for my specific style.
J: On the side of the engagement ring, there are two of these love knot designs engraved into the ring. One of the first gifts he ever bought me was a cheap little love knot ring that I wore every day.
D: You wore it every day until I proposed! It was $40 from a department store when I was 17.
J: It was something that was so special to me, I had no idea he was going to include that element into the ring.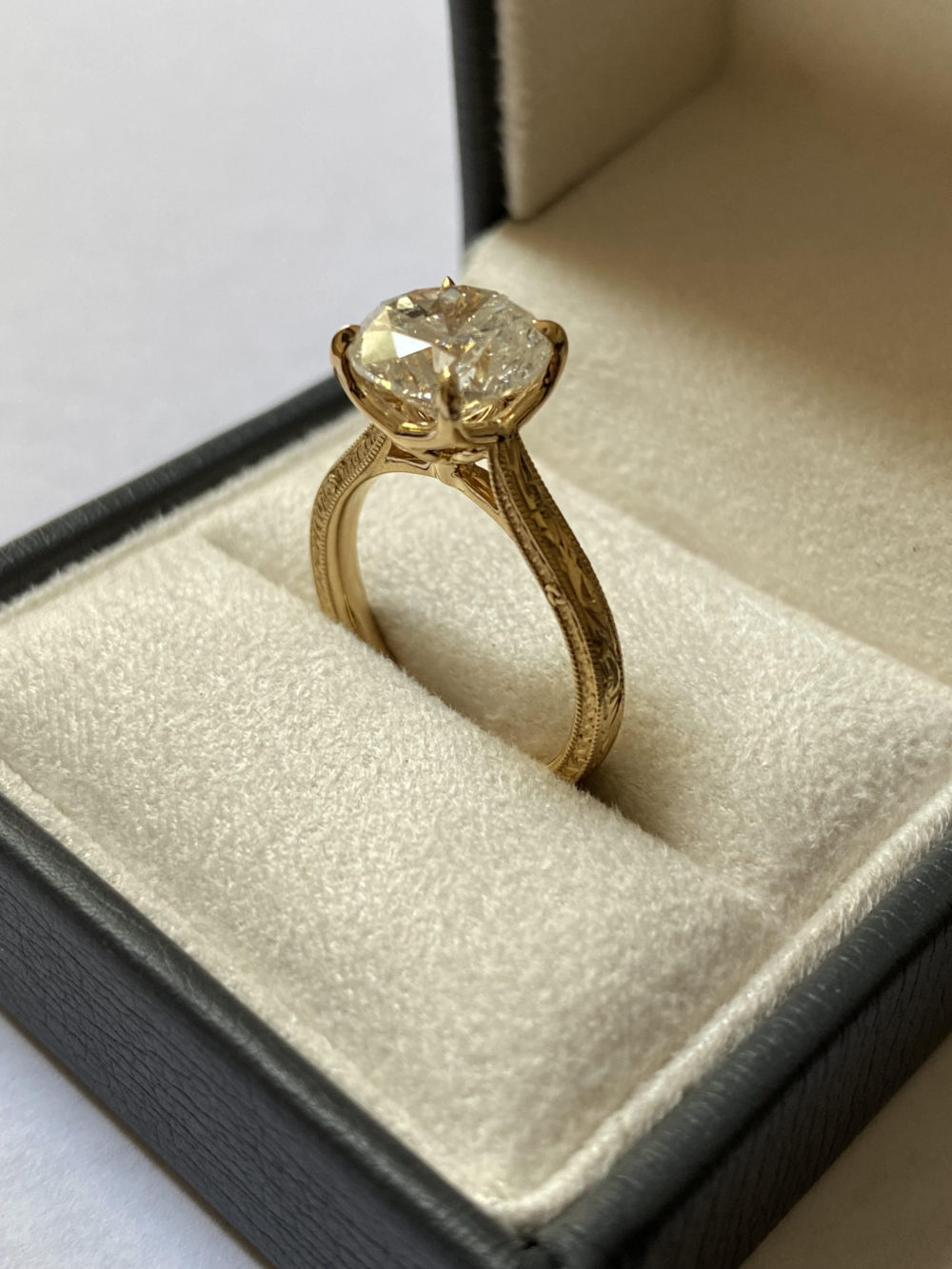 Was the ring a surprise?
J: I didn't see any of the final designs. We spoke together a lot about what I like in general, but he really did all of the designing on his own.
D: The entire process was just myself and the Taylor & Hart team that designed everything. The process of making the ring was amazing, it was so incredible to see the initial design and zoom in on the details of the 3D renders. Then actually seeing it completed, really seeing those delicate details when you hold it in your hand, was breathtaking. I went to pick up the ring with my closest friends and we were all very emotional. 
How did you propose?
J: It was a weekend, not just a proposal. On Friday night we took a helicopter tour around the city at sunset. The pilot took us on a tour of our lives here together. The schools we went to and the apartments we've lived in, all of our favourite neighbourhoods. It was so sweet, he took us over Coney island and it was just so romantic I knew what was going to happen. 
The next day, he took me to the William Vale Hotel in Williamsburg.
Our room had an aisle of rose petals leading out onto the balcony. I followed the petals, and outside there were bouquets of flowers, candles, and beautiful views looking over the city. He handed me his AirPods, and started to play our song, 'Baby, I'm Yours' by the Arctic Monkeys, but he'd actually recorded over the song in his own voice. Then he gave me a photo viewer [that showed an album of photos of our life together] and he was narrating how much these memories mean to him.
The last photo was the drawing of my ring! I put down the photo viewer and all of my friends were standing behind me, they had been hiding in the room. He got down on one knee, it was so special. Then, we popped champagne and partied in this beautiful penthouse with all of our friends for the night. It couldn't have been more perfect.
What are the dreams you guys share together for the future?
J: Right now it's so hard to know with the way that the world is. We both have a huge travel bug, so we'd like to get out and see more of the world. We also have a list of restaurants that we really want to try throughout New York. We can't wait to eat at all of those places again.
---
Crafting Dom and Julianna's ring was an experience that many of us at Taylor & Hart won't soon forget. We think the best thing a piece of jewellery can do is truly reflect the spirit and love shared by a couple, and given their inspiring story we think Julianna and Dom have achieved just that. A big thanks to them for taking the time to chat with us and many congratulations!